Humans have known of electricity since as early as 6th century B.C, yet its more common real-life applications came from the 18th century A.D. ever since then, electricity has been one of the turning points of humanity since the discovery of fire. Electricity has touched every aspect of life, from homes to multinational empires. The following are some amazing facts and what you should know about the electricity and its consumption in the USA by state.
What Is Electricity?
The phenomenon of electricity is closely associated with the "electricity charge". The electricity charge is a property in the matter, or simply a property of atoms. In ordinary matter, a negative charge is carried by electrons, and a positive charge is carried by the protons in the nuclei (which means Center) of atoms.

So, electricity is the result of the presence and the motion of matter that has characteristics of electric charge.

Various common phenomena are related to electricity, including lightning, static electricity, electric heating, electric discharges, and many others
There is a close relationship between electricity demand, consumption, and rates for electricity or the price per kWh (KiloWatt Hour).
Top 10 Electricity Consuming States In The USA
The following are the top electrical consumption by state. Note that here, only the top 10 are mentioned. And you can also see that there are 3 categories of electricity usage. They are,
Residential
Commercial
Industrial
Residential Electricity Usage (in million kilowatt-hours)
Texas: 144,242
Florida: 121,463
California: 90,124
North Carolina: 56,134
Georgia: 54,771
Pennsylvania: 51,724
Ohio: 49,796
New York: 49,081
Virginia: 43,982
Illinois: 43,717
Commercial Electricity Usage (in million kilowatt-hours)
Texas: 137,486
California: 117,682
Florida: 95,004
New York: 75,333
Virginia: 50,201
Illinois: 49,988
North Carolina: 47,890
Georgia: 46,265
Ohio: 46,158
Pennsylvania: 42,623
Industrial Electricity Usage (in million kilowatt-hours)
Texas: 119,970
Ohio: 50,651
California: 48,627
Pennsylvania: 47,889
Indiana: 43,737
Illinois: 42,971
Louisiana: 37,161
Alabama: 33,317
Georgia: 32,251
Michigan: 30,591
You can notice that the state of Texas leads in all residential, commercial and industrial usage of electricity, yet other ranks in the top 10 vary between states. This is mainly because of the differences in the regional span of industrial zones and commercial zones. Looking at one of the major factors that affect electricity rates, let us have look at the lowest electricity rates and the highest electricity rates in the USA.
Note that this information is only on residential electricity rates.
This Map Shows The Average Electricity Retail Price By US State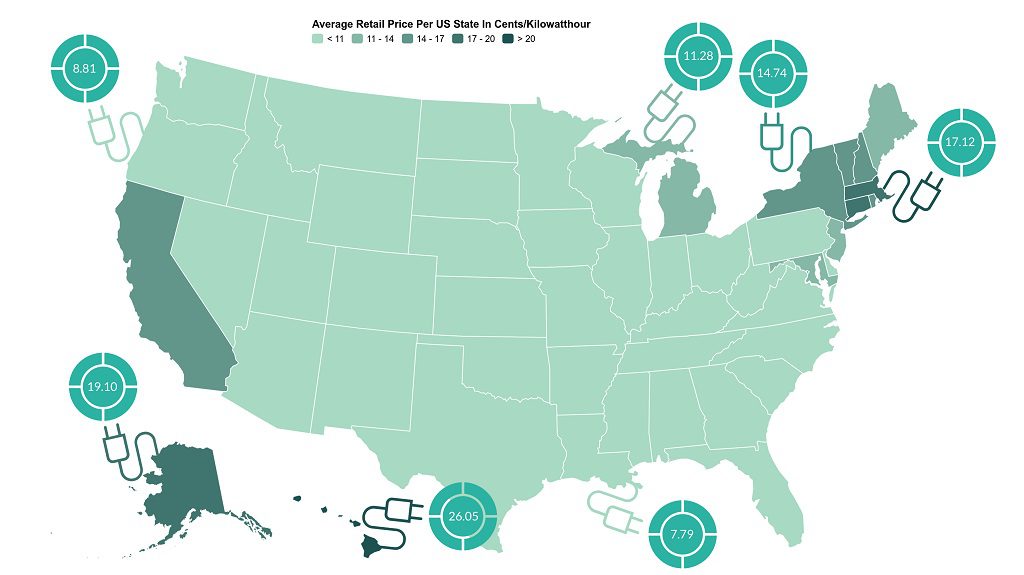 US States With The Cheapest Electricity Rates (cents/kWh)
Louisiana: 7.79
Washington: 7.94
Oklahoma: 8.2
Arkansas: 8.26
Idaho: 8.26
Wyoming: 8.28
Texas: 8.38
Kentucky: 8.57
Utah: 8.6
Iowa: 8.73
You can see clearly that none of the highest electricity consuming states has cheap prices.
US States With The Highest Electricity Rates (cents/kWh)
Hawaii: 26.05
Alaska: 19.1
Connecticut: 17.55
Massachusetts: 17.12
Rhode Island: 16.42
New Hampshire: 16.17
California: 16.06
New York: 14.74
Vermont: 14.6
New Jersey: 13.32
Here, you can see that Hawaii has the highest residential electricity rates. One of the main reasons for this is the low population and high electricity usage in the state of Hawaii.
Another reason for these high rates in these states is that the high population, high number of businesses and homing industries that highly power-intensive (i.e.: Texas = oil Industry).
How Is This Vast Electricity Requirement Fulfilled?
The USA utilizes a number of ways to supply for this ever-increasing domestic demand for electricity.
Natural gas: Natural gas has been the largest source of electrical generation in the United States since July 2015
Coal: Generation of electricity is the largest user of coal, around 30% of the total domestic supply
Hydro-electricity
Nuclear
In conclusion, we will go out of the USA to show you the global consumption of electricity, just so you can get an idea.
Top 10 Countries By Electricity Consumption (kW·h/yr)
China: 6,310,000,000,000
United States: 3,911,000,000,000
India: 1,408,624,400,000
Russia: 1,065,000,000,000  
Japan: 934,000,000,000  
Germany: 533,000,000,000  
Canada: 528,000,000,000  
Brazil: 518,000,000,000  
South Korea: 495,000,000,000  
France: 431,000,000,000