Mortgages have helped many people in the USA and around the world to afford assets, especially homes that are expensive and can't be afforded without any financial aid. In this article, we will explore what are mortgages the different types of mortgages and why America's mortgage loan debt by State is on the rise.
What is a mortgage?
A mortgage is a type of loan which is secured or guaranteed with real state or personal property.
What is a loan?
A loan is a relationship between two people. In specific terms, it is a contract between a lender and a borrower. The lender is also called a creditor and the borrower is called debtor. Usually, lender "loans-out" money which will be "taken-out" by the borrower as a loan. 
What Is The Difference Between A Loan And A Mortgage?
A loan is a "relationship" between a lender and borrower. Money lent and received in this transaction is known as a "loan". 
But a mortgage is a secured loan that is "specifically" tied to real estate property, such as a land or a house.
Types Of Mortgages
Fixed-rate mortgages
Large loans that must be repaid over a long period of time and have fixed interest rates.
Variable-rate mortgages
With variable-rate mortgages, the interest rate can change at any time.
Discount mortgages
This is a discount off the lender's standard variable rate (SVR) and only applies for a certain length of time, typically two or three years.
Tracker mortgages
Tracker mortgages move directly in line with another interest rate – normally the Bank of England's base rate plus a few percents.
Capped rate mortgages
Your rate moves in line normally with the lender's SVR. But the "cap" means the rate can't rise above a certain level.
Offset mortgages
Linking your savings and current account to your mortgage so that you only pay interest on the difference.
FHA mortgage loans
U.S. Federal Housing Administration (FHA) insures mortgage loans that FHA-approved lenders give to high-risk borrowers. These are not loans from the government, but the insurance of a loan made by an independent institution, such as a bank.
VA loan mortgages
The U.S. Department of Veterans Affairs guarantees the home mortgage loans taken out by military veterans. VA loans are similar to FHA loans, in that the government is not lending money itself, but rather insuring or guaranteeing a loan supplied by another lender.
Now that you have an idea about what mortgages are, let's take a look at the average mortgage loan debt by US State in 2018 and 2019.
Average Mortgage Debt by State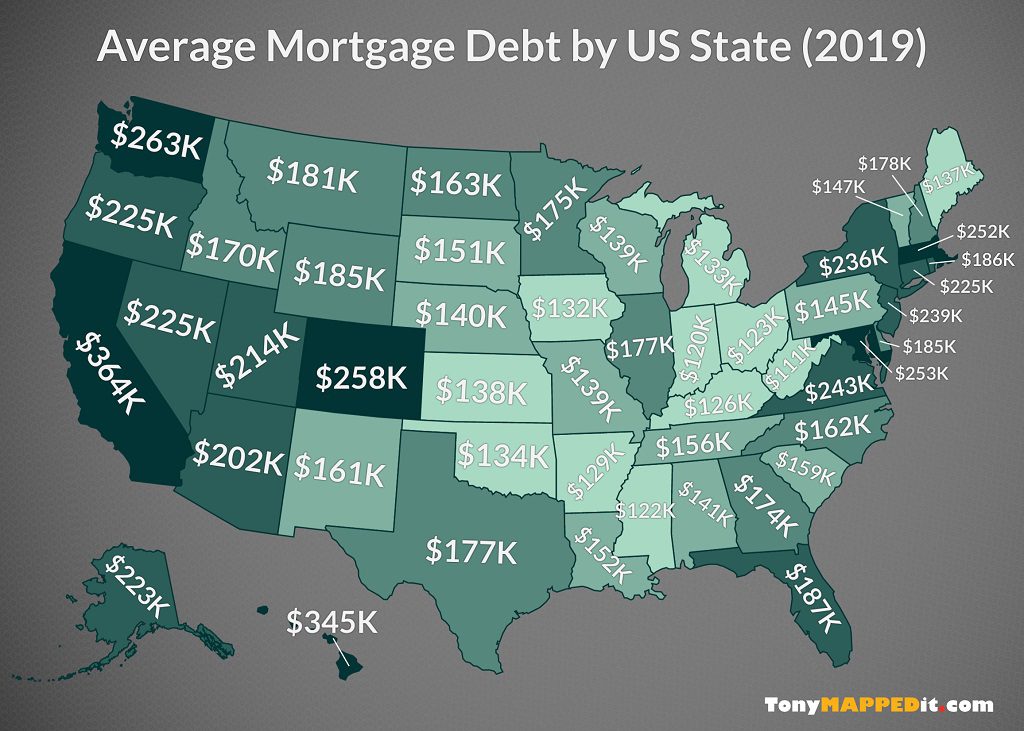 List Of Average Mortgage Debt by State In 2018 And 2019
Top 10 US States With The Highest Average Mortgage Debt
Washington, DC: $418,555
California: $363,537
Hawaii: $344,819
Washington: $262,641
Colorado: $258,026
Maryland: $252,583
Massachusetts: $252,207
Virginia: $242,794
New Jersey: $239,362
New York: $236,093
If you look at these top 10, you can see that Washington, D.C has an unprecedented mortgage rate in the country, with a mortgage of more than $400,000.
Did you know? The concept or the idea of "mortgage" originated originally in historic England around 1190 A.D and gradually spread throughout Europe and became popularized during the late 1800s and 1900s. However, in the early 1900s, if you wanted a mortgage in the USA, you had to pay a down payment of 50%.
If you look at all these states, another common aspect is that all of them are highly urbanized and populous areas. California and New Jersey are highly industrialized zones. New York, the big apple, is one of the highest and densely populated cities in the world, "the city that never sleeps".
Top 10 States With The Lowest Average Mortgage Debts
West Virginia: $110,729
Indiana: $120,354
Mississippi: $121,608
Ohio: $122,765
Kentucky: $126,310
Arkansas: $128,842
Iowa: $131,709
Michigan: $132,523
Oklahoma: $134,244
Maine: $136,963
Why Mortgage Loan Debts Are Rising
There are several reasons for the annual gradual increase in mortgage debts in the USA. They are,
The still-existing aftermath of the 2008 global economic crisis or the "great recession".
The fast-paced urbanization and industrialization in the country.
The growing number of immigrants coming to the USA
Growth of international trade and commerce in the country
Every year, property and house prices keep going up yet the salaries and the income of many individuals fluctuate upwards slightly, after adding the growing cost of living and the inflation in the USA, its no wonder that people are going for more and more mortgages to afford houses and properties.
Quick Tips To "safe mortgage-ing"
Always know your budget, and what you can and cannot afford.
Know what you WANT and what you NEED.
Look at the lenders' terms and conditions carefully.
Don't try to imitate the rich.
After obtaining the mortgage, pay the installments on time to avoid suspension fees and additional interest fees.
Always look at the fees for taking them (mortgages) out, as well as the exit penalties.