The most popular sport in the world is football but only 8 countries have had the honor to call themselves the world champions. It is Brazil that won the most world cups. The Dutch (Holland) have been runners-up the most times without winning the FIFA World Cup once, losing three finals.
Below all countries that have won the FIFA World Cup:
Brazil (5)
Germany (4)
Italy (4)
Uruguay (2)
Argentina (2)
France (1)
Spain (1)
England (1)
Popularity of Football across the world
Surprisingly, all FIFA World Cup winners are situated in only two continents (Europe & South America). The map below (from Quora) really shows the immense popularity of Football across the world.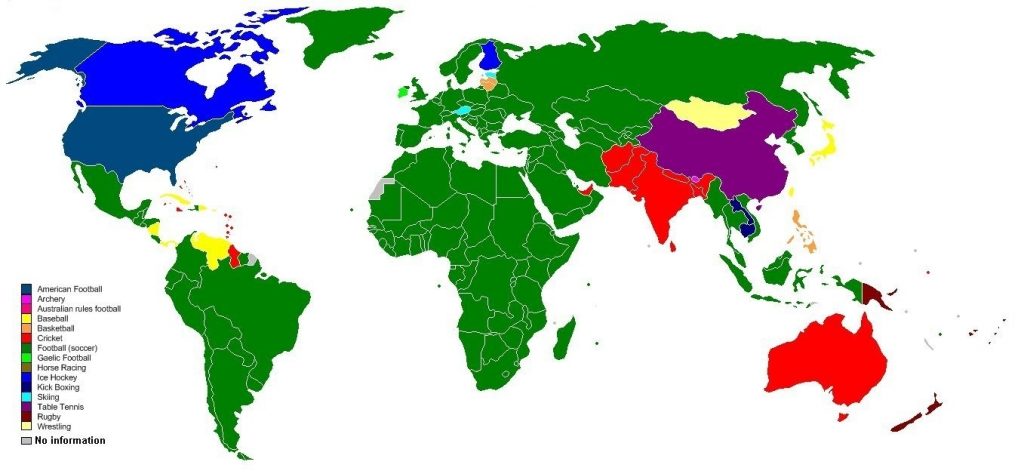 Most succesfull countries in qualifying 2010, 2014 & 2018 FIFA World Cup
The map below (created by Reddit user SoldadoTrifaldon) shows the most succesfull countries in qualifying for the last 3 FIFA World Cups.
Is it Football or Soccer?
There is not "right or wrong" really but a research conducted by Facebook in 2014 shows no doubt. Football is the most common form in nearly all countries. Soccer is basically only used in the USA as American Football is its dominant sport.