Obesity is a medical condition in which the body fat is accumulated or amassed excessively within the Human Body and affects the overall Physiological, Psychological, Sociological and Spiritual Health of an individual.
A person is considered to be "Obese" When his or her Body Mass Index Measurement (BMI) exceeds the amount 27. A person is considered Over-weight or in danger of getting obese when this value is above 25.
The Obesity Rate in America is at an all-time Hight. Today, 65.7% percent of American adults are overweight and that means over 70 million adults in the U.S. are obese.
In 2017, the Fattest State in the USA was West Virginia, with 38.1% of Adults are reported "Fat" or Obese. The "Slimmest" (if you get eh Pun) was Colorado with a "Fat" rate of only 22.6% Adults!
Watch The Spreading Worldwide Obesity Epidemic
You can view here how our world fell to this Epidemic of Obesity since the 1970s. On average, an adult today is likely to be Three times as Obese as an adult in the 1970's.
Also, you will notice how the "Developed World", especially North America, Europe, and Australia quickly fell Victim to this epidemic over a span of only four decades. Why? We will discuss that later on in this article! So, keep going and keep reading!
Map Of Adult Obesity Rates By US State In 2017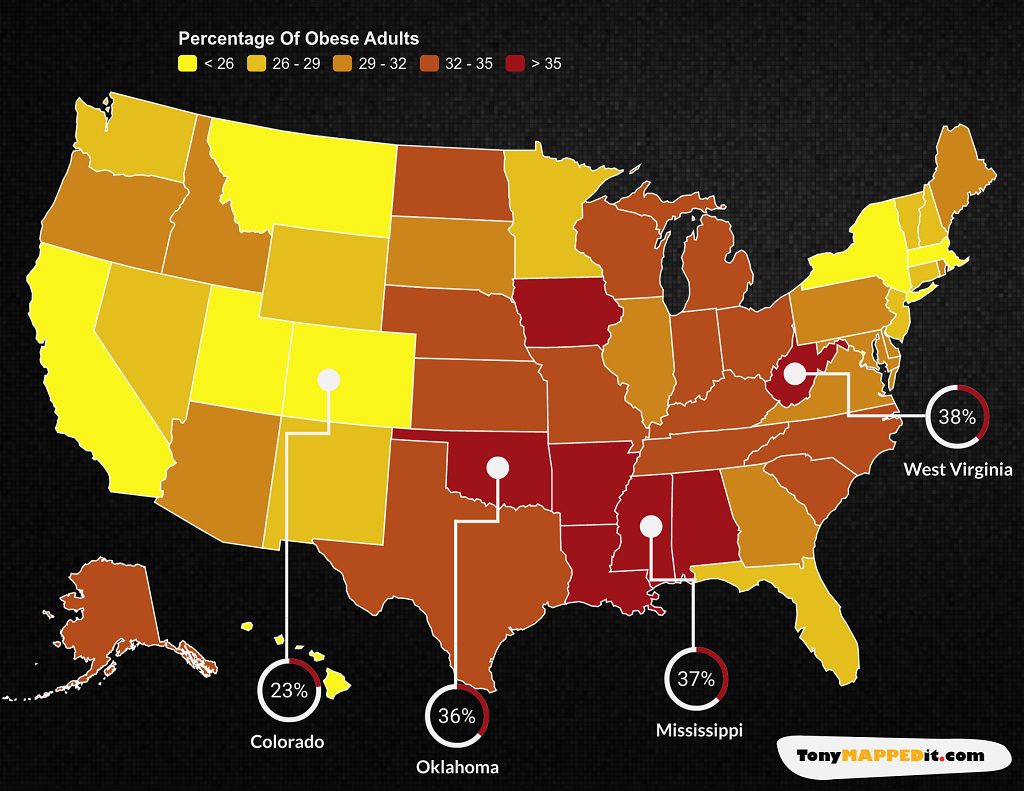 This map showcases the "Adult" Obesity Rates by State in 2017. Remember, don't confuse "US Obesity Rate" with "US Adult Obesity Rate", which includes only the "Adult Population" (above 18 years). In the USA, the adult obesity rate now exceeds 35% in seven (07) states, 30% in twenty-nine (29) states, and 25% in forty-eight (48) states.
Top five Most obese states are,
West Virginia: 38.1%
Mississippi: 37.3%
Oklahoma: 36.5%
Iowa: 36.4%
Alabama: 36.3%
The fattest state is West Virginia, with a striking 38% of the adults being obese.
We can see currently states of Oklahoma, Iowa and Alabama are competing for the 3rd position to become the "3rd Fattest State" of Uncle Sam.
The Least Obese Counties are,
Colorado: 22.6%
District of Columbia: 23.0%
Hawaii: 23.8%
California: 25.1%
Montana and Utah: 25.3%
Obesity Rate By US State
This table shows states ranked by the obesity rate of the "Total Population" in the USA. This includes both adults and children of all ages.
Data source: cdc.gov
Map Of Diabetes Per US State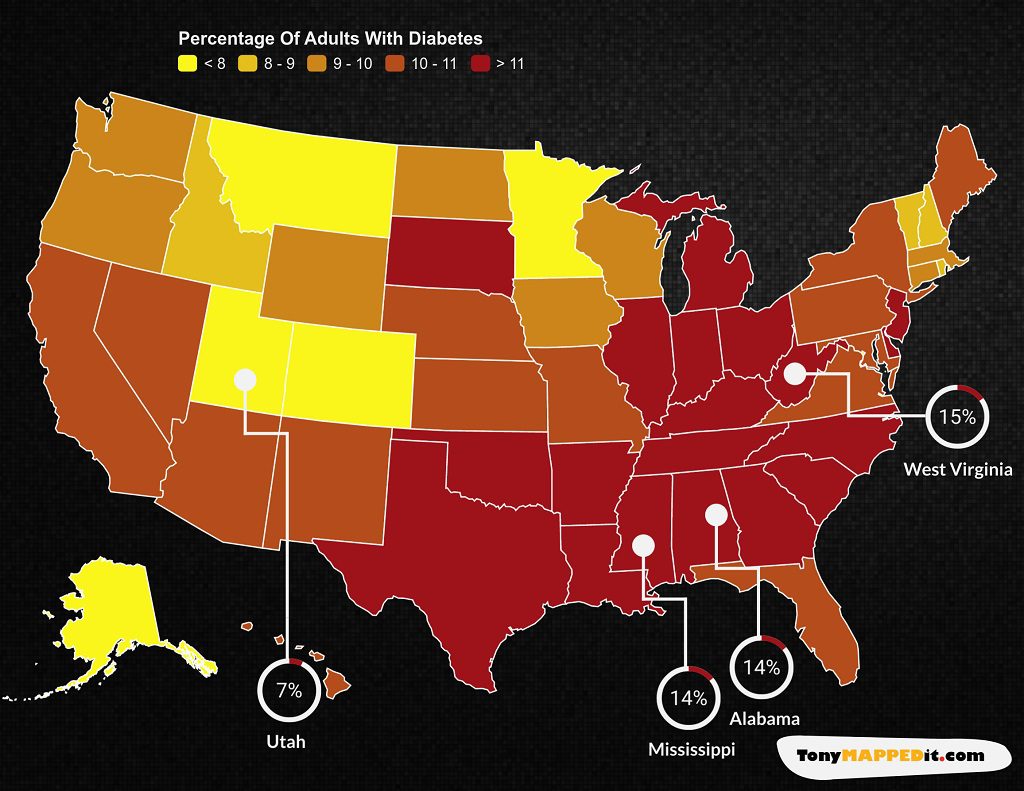 Obesity breeds many more Epidemics on its own. As mentioned earlier, Obesity disrupts a person's overall health and its negative effect on Physical health is reflected under this map.
Diabetes is a key non-communicable disease which could be a side effect of Obesity. As Obesity in the USA increases, so does the Rate of Diabetes in America. The map showcases the diabetes rate by state in the USA and today, 30.3 million Americans out of the U.S. population have diabetes. Another 84.1 million have prediabetes.
If you look closely, many states that rank high in obesity rates also rank high in this Chart. With West Virginia being the top "Diabetic state" while Colorado and Utah being the "Least" Diabetic states.
Source: Stateofobesity.org
Heart Disease Death Rates In USA (2014 – 2016)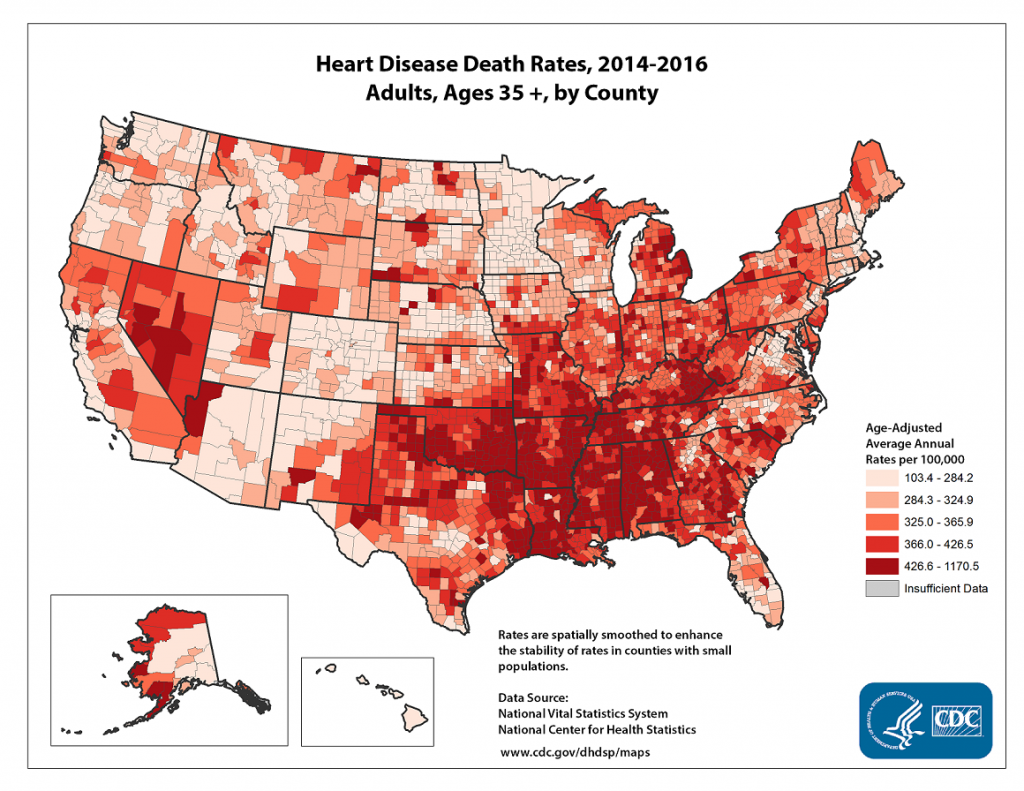 Another worst-case scenario of Obesity is the increase in Cardiovascular Diseases.
You can see here in this map that States with a high intensity of deaths related to Heart also rank high on the list of states with a High Obesity rate and High Diabetes rates.
States that have a heart disease-related death rate of approximately more than three hundred and fifty (350) deaths per 100,000 people are,
Alabama
Mississippi
Arkansas
Oklahoma
West Virginia
Louisiana
This is because Obesity is a Direct cause to Diabetics and both Obesity and the presence of excess sugar in the blood are reasons for Heart Diseases!
Years Of Life Lost Due To Obesity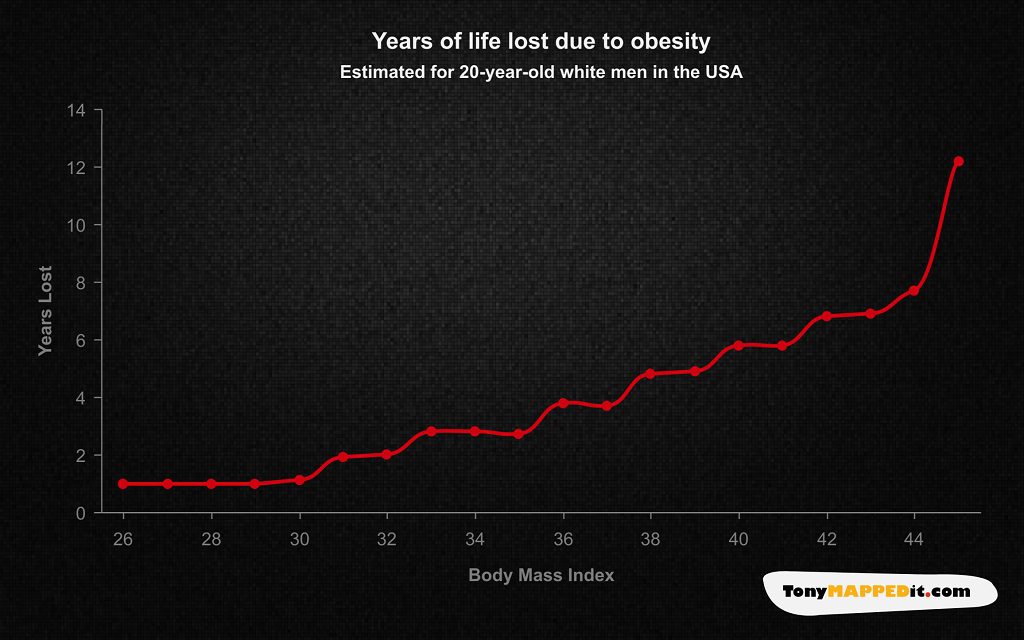 Obesity affects life expectancy! In a study, it was shown that for an Obese person who has a BMI value of more than 30, an approximated average of nearly 4.5 years is stolen from life expectancy.
Obesity-Related Costs By Country
Obesity is just not a "Burden" for the individual. It also has an adverse impact on the economy and taxpayers as well. Obesity costs the US nearly 9% of total medical costs. As Economic costs of Obesity and Medical Costs of Economy increase, the Investment opportunities are lost and problems such as,
Loss of Workplace Productivity
Job absenteeism
Directly affects both Government and Private enterprises. The following chart shows the Biggest spenders of Obesity-Related Medical costs.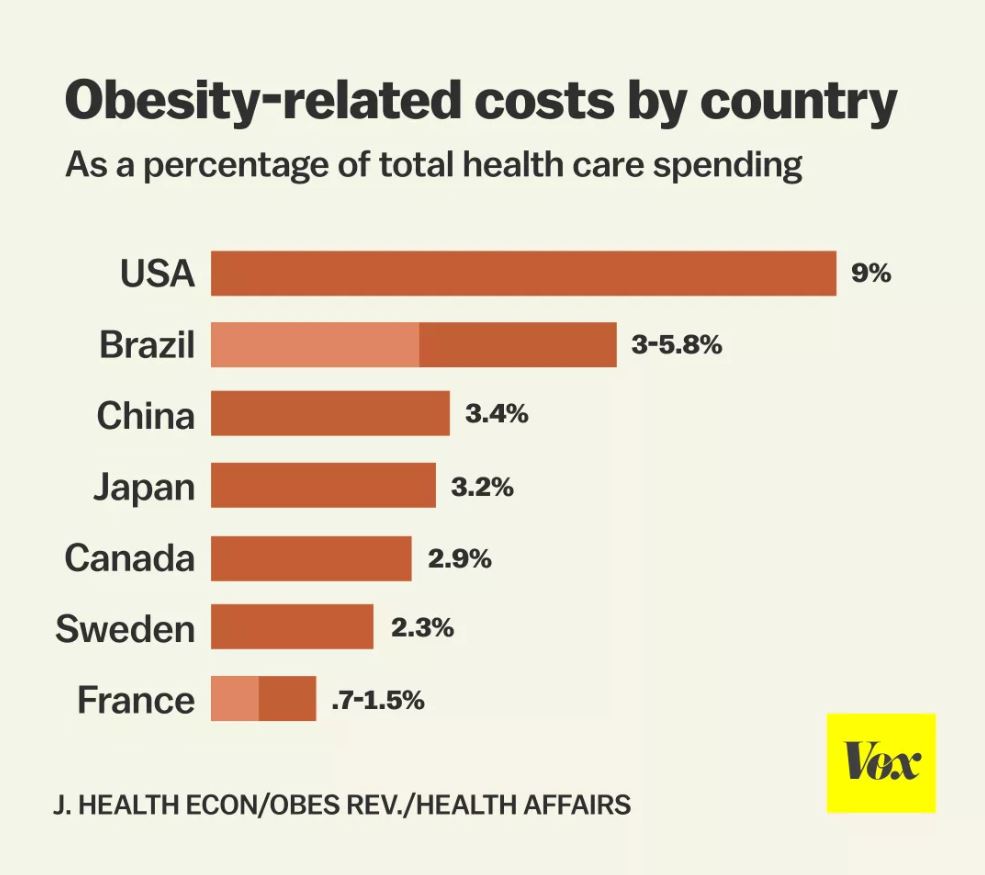 Social Burdens In The USA Generated By Human Beings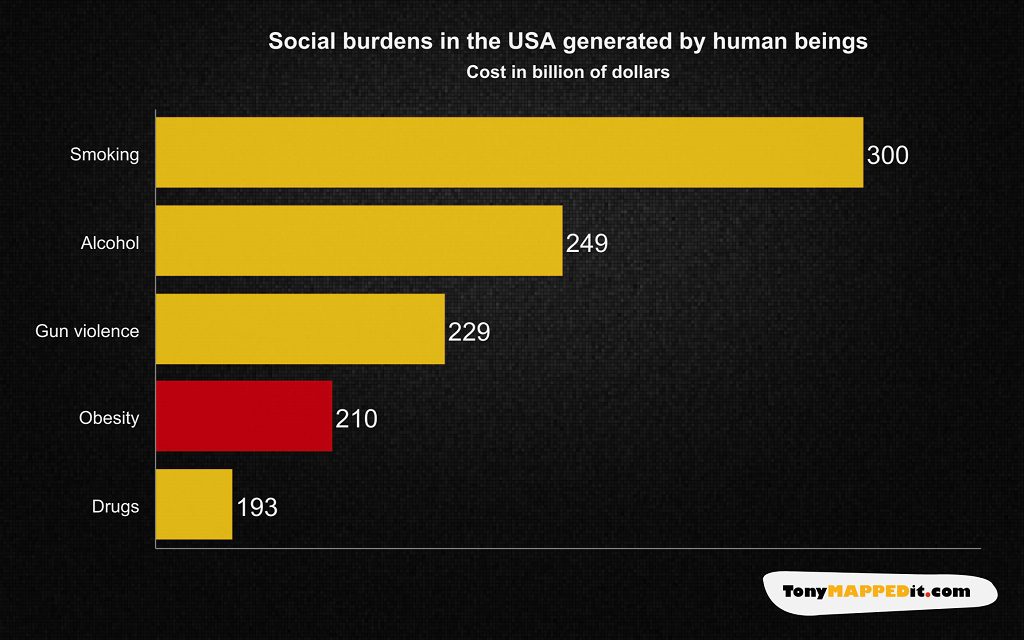 Percent Of Obese Children In The USA (2-4 years)
What happens when Children, the Next Generation who is about to drive any nation falls prey to an Epidemic? Childhood obesity in the US has become a National Problem.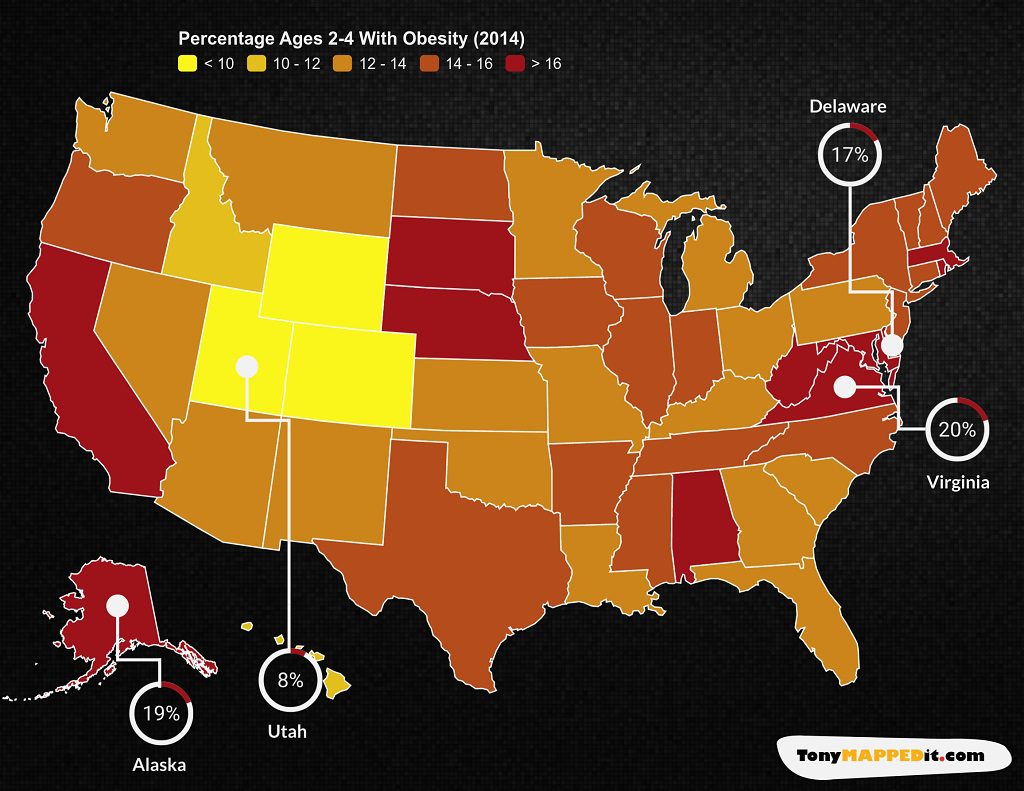 Child Obesity statistics show that in 15 states in the USA, the child obesity percentage is nearly 20% and if you analyze a bit more you can see it directly correlates with the States ranking high in overall obesity, diabetes and heart diseases.
Percent Of Obese Children In 2017 (10-17 years)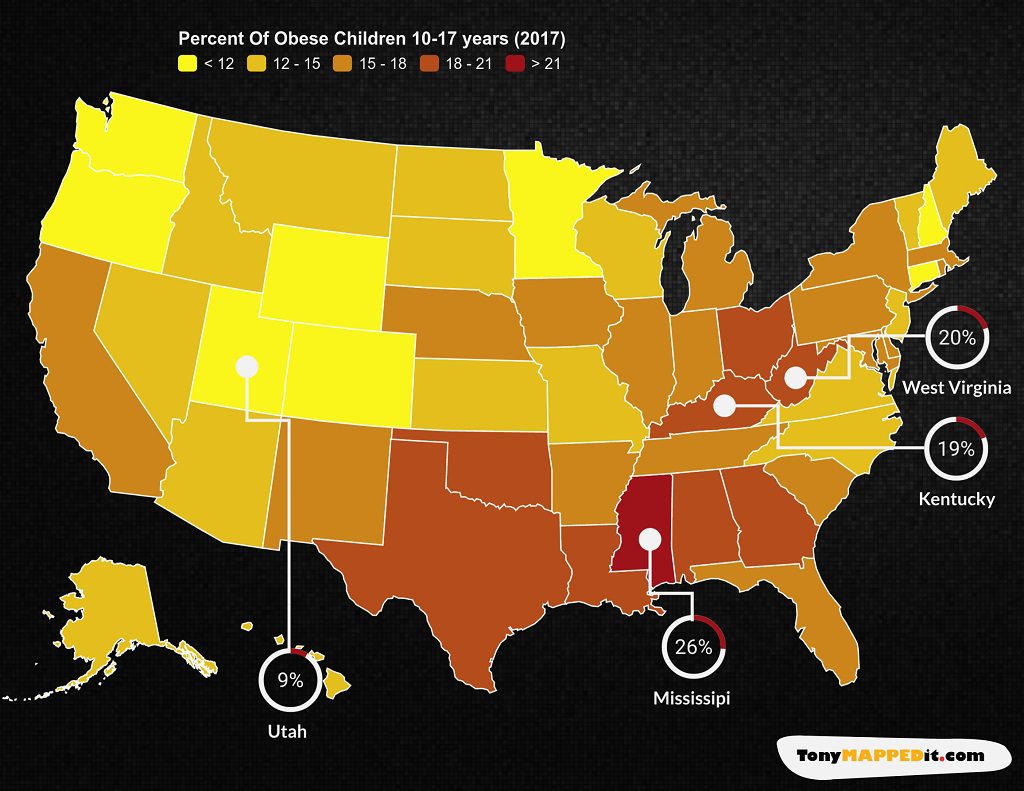 The situation is the same with Children aged 10 to 17 or only worse! More than 20 states report a child obesity percentage of nearly 20% and in the state of Mississippi, the percentage is more than 25%.
Percent Of Obese High School Students In The USA (2017)
However, Obesity among US High School Students in a relatively good position as 23 states reports less than 15% obesity rate. Yet states such as,
Kentucky
Arkansas
Tennessee
West Virginia
Shows a high rate of more than 15% obesity rate as shown in the following map.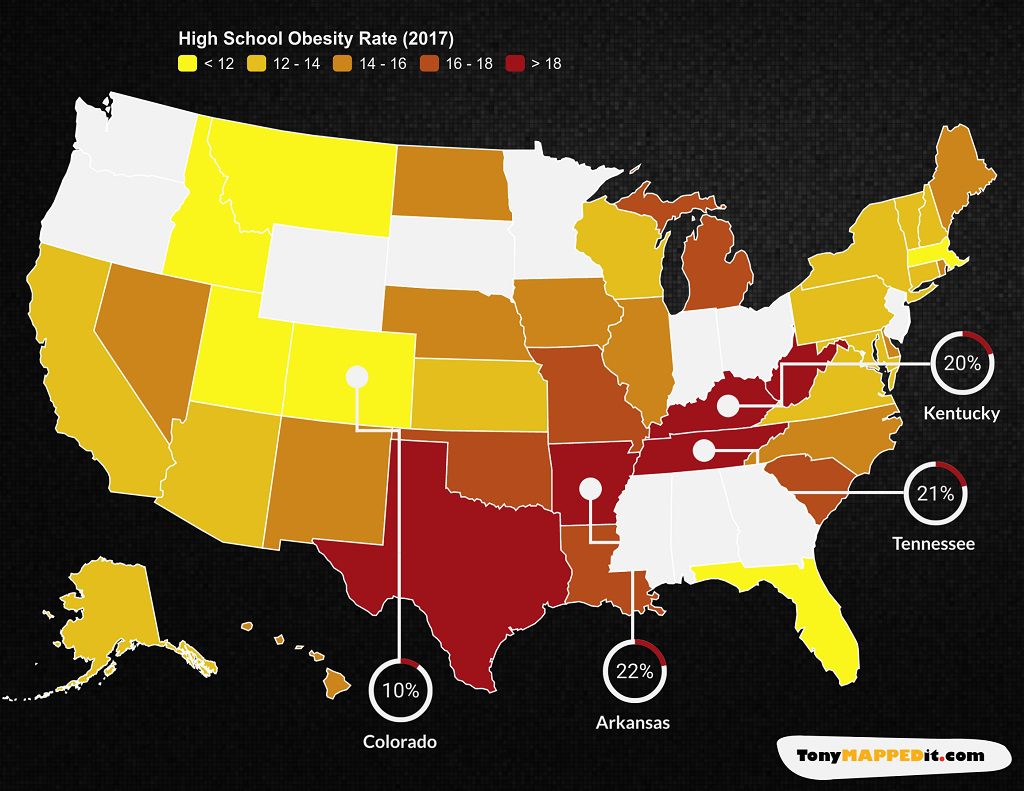 Obesity Among Hispanic Adults By US State (2015 – 2017)
Out of 51 US States, Hispanic adults in 49 states show an Obese rate of more than 25%. And out of those, 8 states record an obesity rate that exceeds 35%.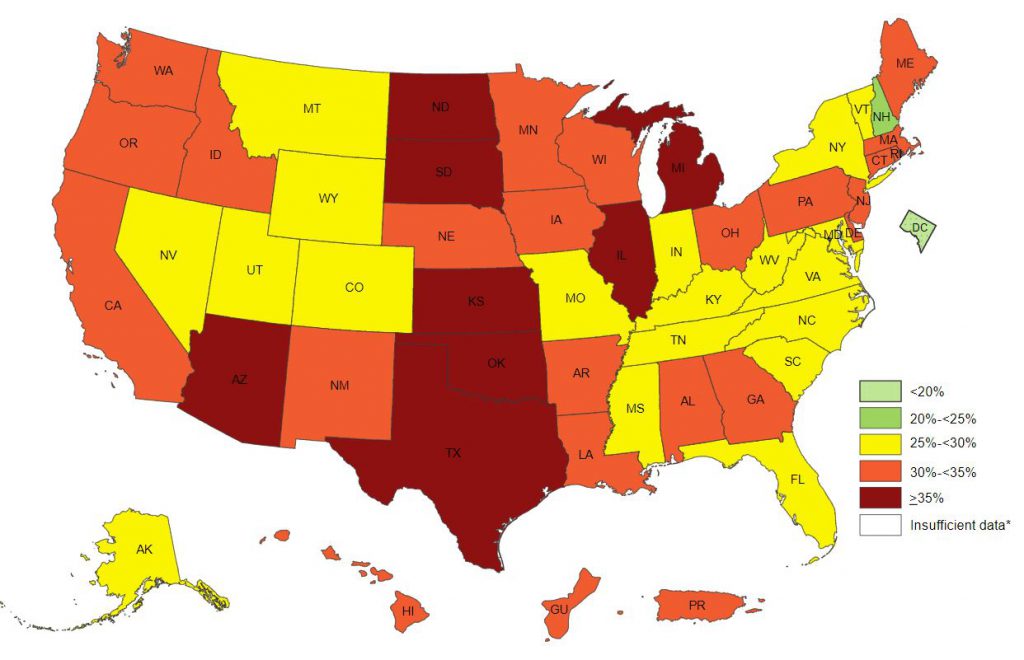 Obesity Among Non-Hispanic Black Adults By US State (2015 – 2017)
The case is worse when it comes to Non-Hispanic Black population in the USA as 30 states out of 51 states, that's nearly 60%, reports an obesity rate of more than 35% which is a serious health issue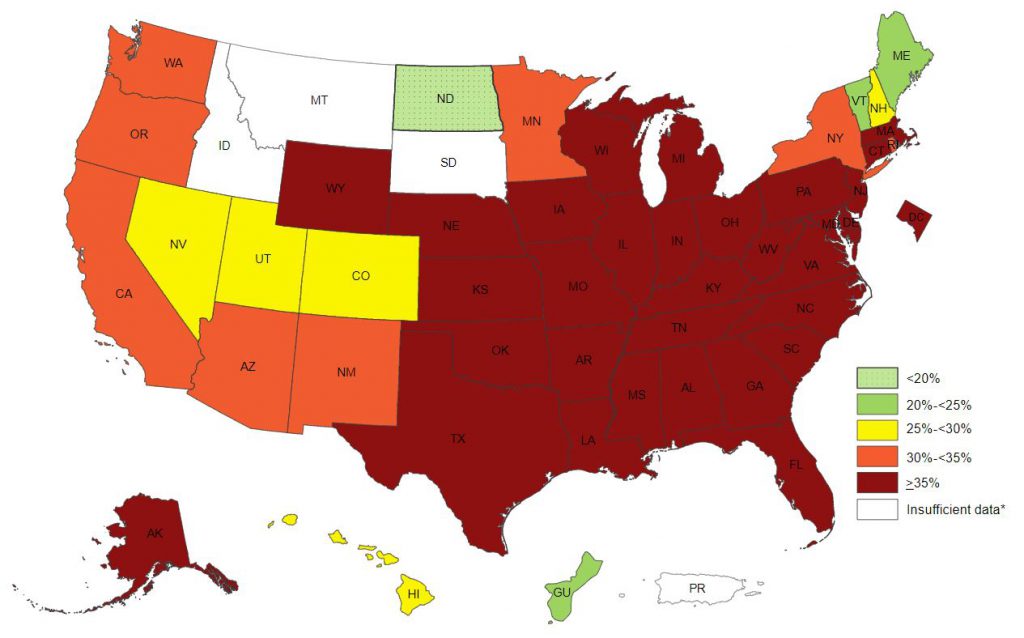 Obesity Among Non-Hispanic White Adults By US State (2015-2017)
Following map showcases the obesity rate for Non-Hispanic White population in the USA and 23 states have a rate higher than 30% and West Virginia, the Fattest state in the USA, records the highest Obese percentage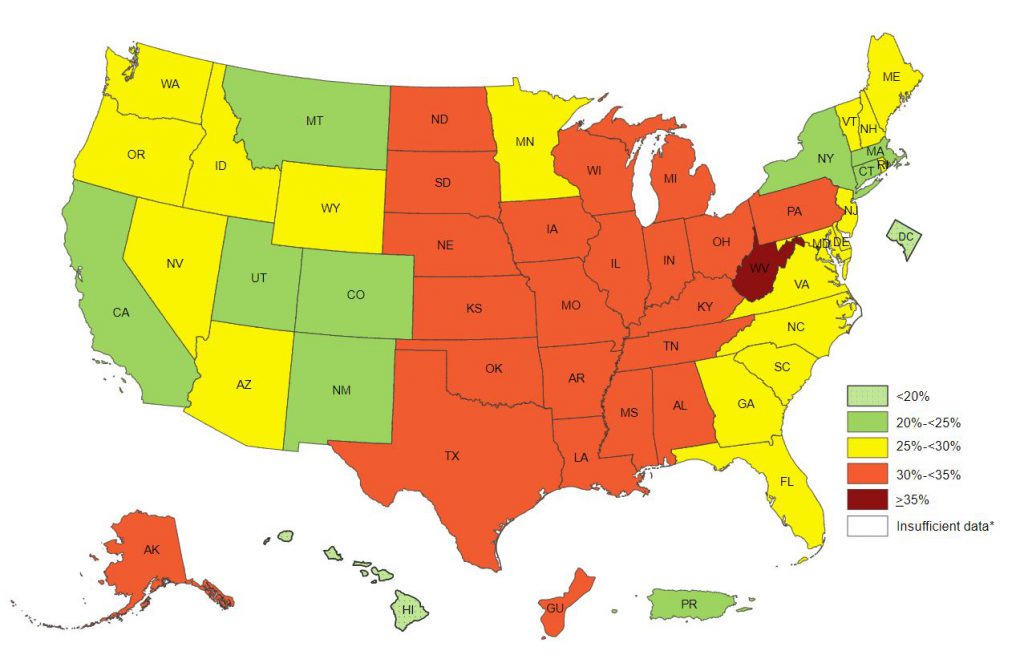 Adult Female Obesity In USA From 1960 to 2018
Female Obesity directly links with the Women's Fertility and the following map shows the gradual increase of Overweight Women in the USA from 1965 to 2018.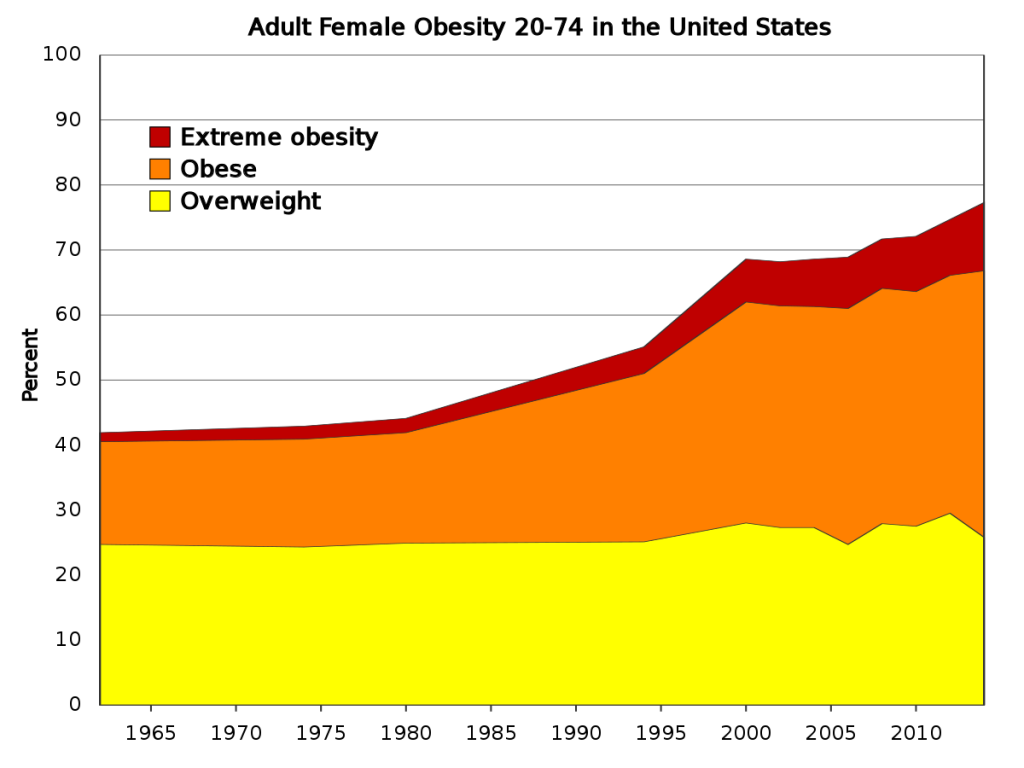 Adult Male Obesity In USA From 1960 to 2018
The following map shows the gradual increase in Overweight Men in the USA from 1965 to 2018. You can see that the rate at which men have gain weight is greater than that of the women!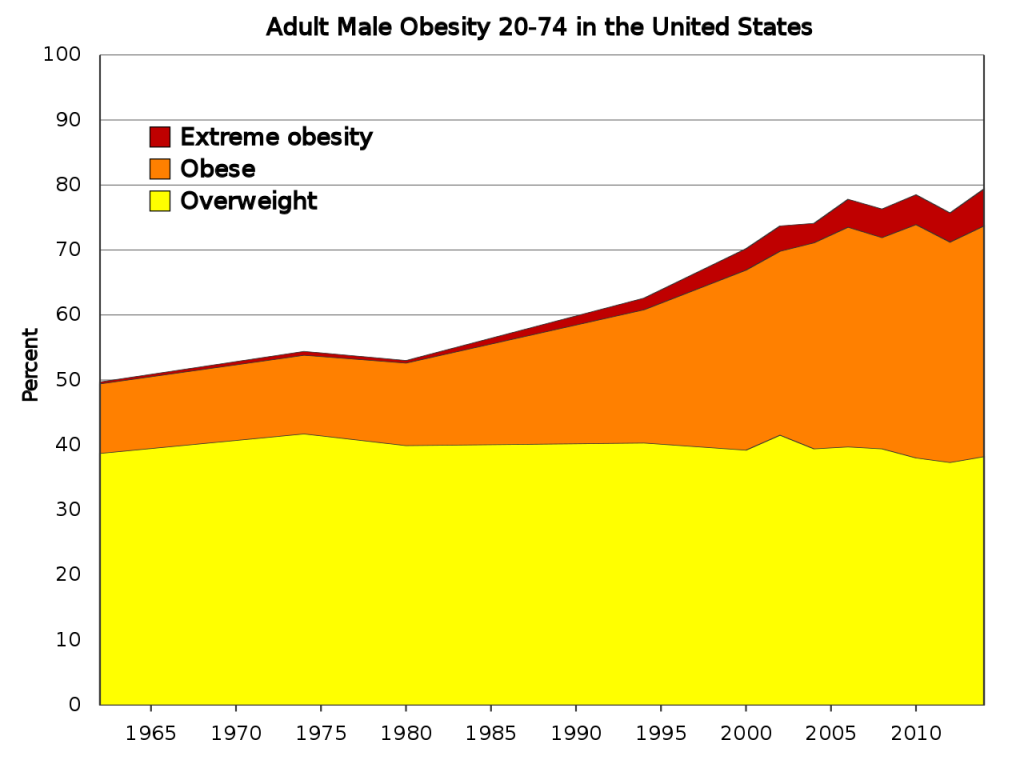 Obesity Among US Adults By US State (2011 2017)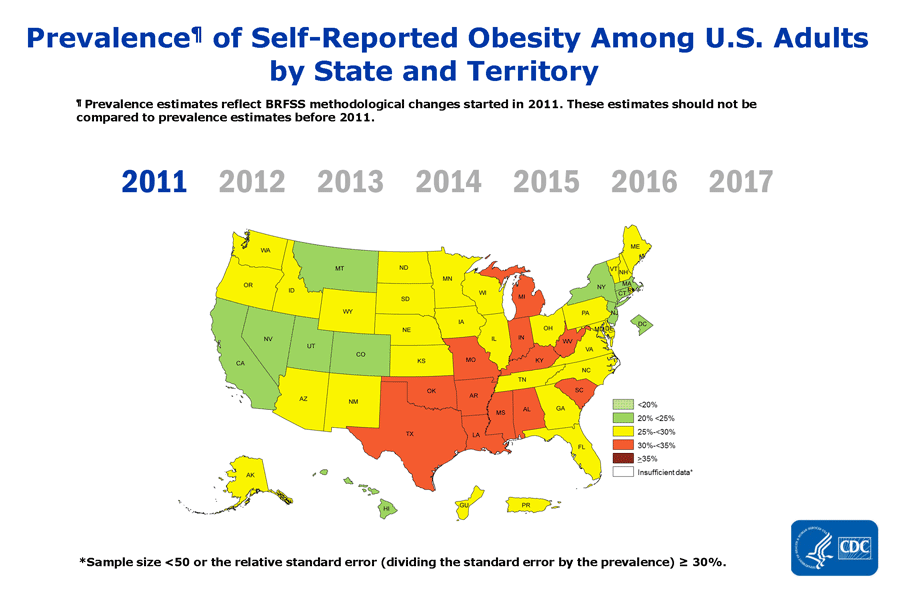 Average Daily Calories Per Person In USA
Consuming a greater number of Calories, mainly Fats and Oils without any effective physical activity is the main contributor to Obesity. The following chart clearly shows this. You can see the increase in the average consumption of Fats and Oils and the gradual decrease in the consumption of Grains, Meat, and Fish.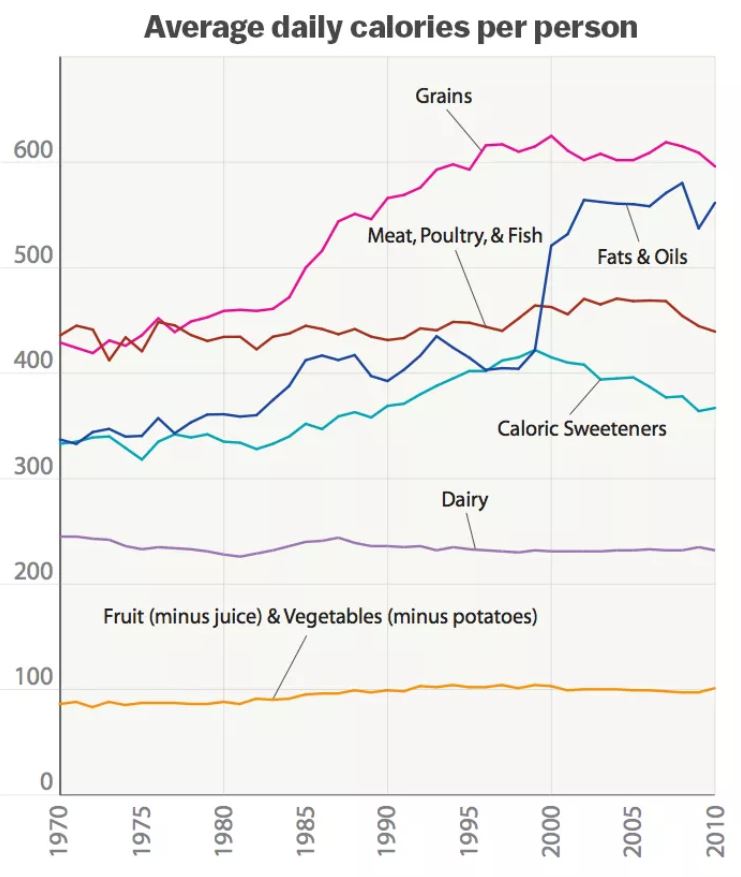 On average, a grown man requires around 2500 Kilocalories a day to maintain weight and 2000 to lose weight in a Week, For a Woman, the requirement is 2000 Calories to maintain weight and 1500 calories to lose weight in a time span of a week.
US Sugar Consumption
Excessive consumption of Sugar and Sugar related food and beverages is another foremost reason behind the spread of Obesity and Obesity-Related other Non-Communicable diseases, such as Diabetics, Heart Diseases, High-Cholesterol and etc.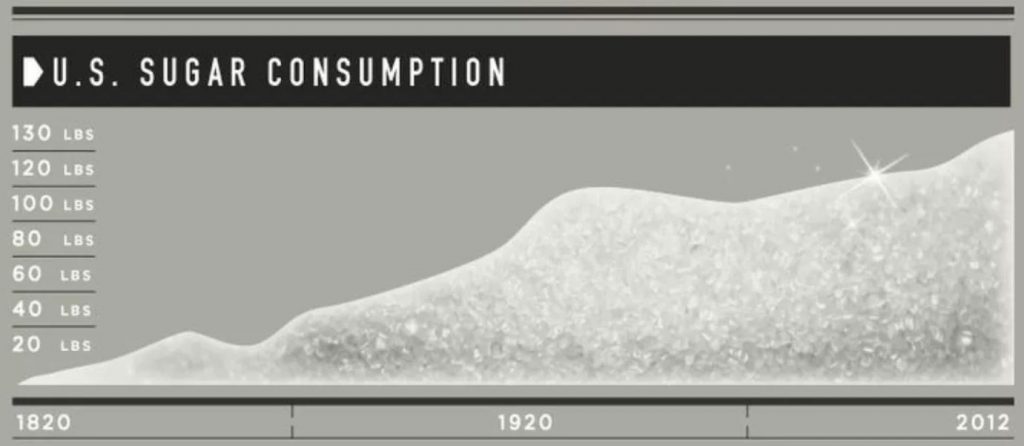 The USA is the largest consumer of Sugar in the world, consuming almost 152 pounds of Sugar every year on average. That's 3 pounds per week.
Obesity Rates Worldwide Among 18+ Male (2014)
The following map shows the World Wide obesity rates for males who are 18+ according to the World Health Organization. North America, UK. Australia and the Middle East shows that these populations record a BMI value that exceeds 25.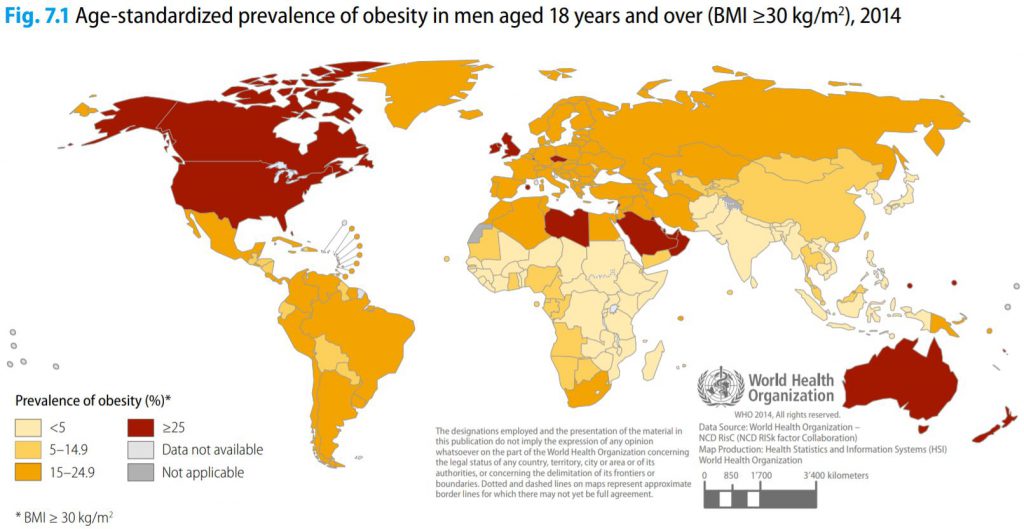 Obesity Rates Worldwide Among 18+ Female (2014)
The following map shows the World Wide obesity rates for females who are 18+ according to the World Health Organization. North America, UK. Australia, Middle East, Russia, North Africa, Southern Africa, most of Latin America and Eastern Europe report a BMI value of more than 25 for women.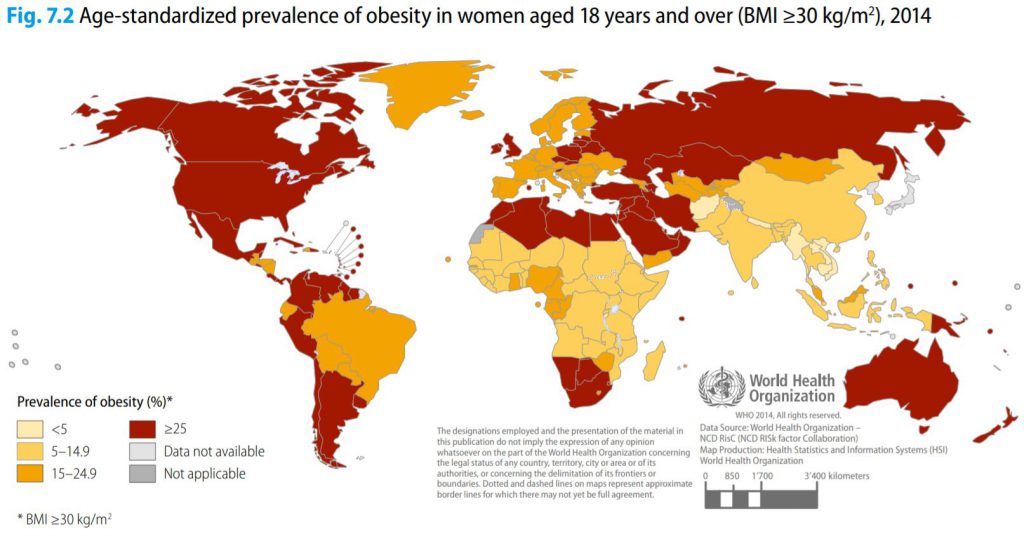 Obesity Rates By Country (Male vs Female)
The following chart reveals Male vs. Female Obesity Rates in selected nations. Can you see that in Asian Countries this difference is Low and in Western and European countries this Difference is high?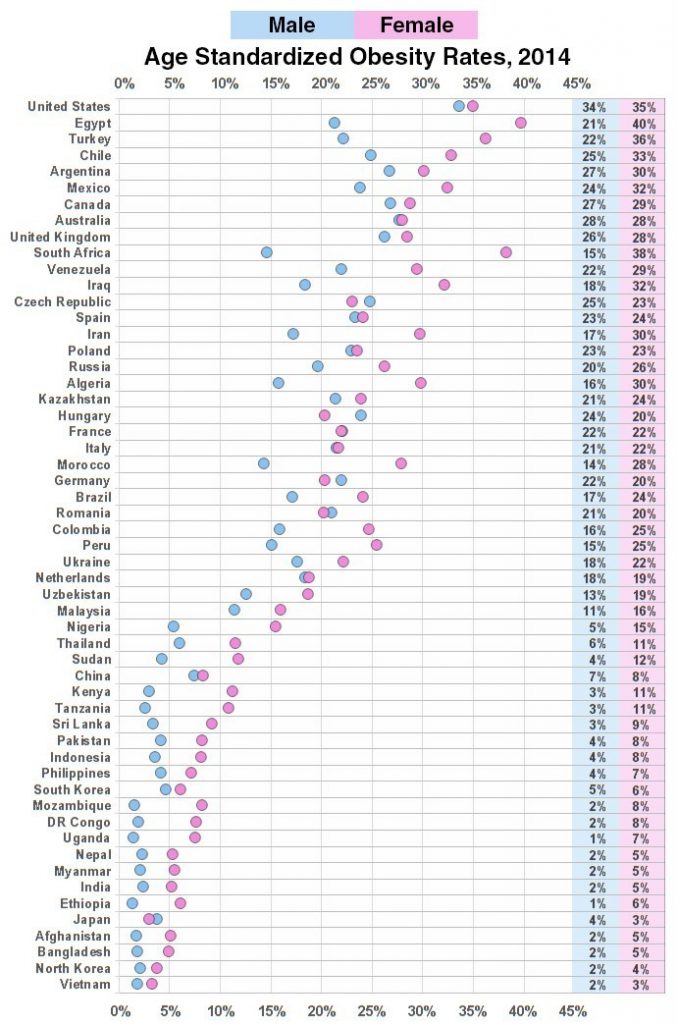 Obesity Rates In Younger Children (5-9 years) Around The World
Following is a Map of Obesity percentages of children between 5 to 9 years of age in the world. Can you note the striking resemblance between this map and the over 18 adult obesity maps? It Shows that Kids can't stay slender when their adults are Fat!!!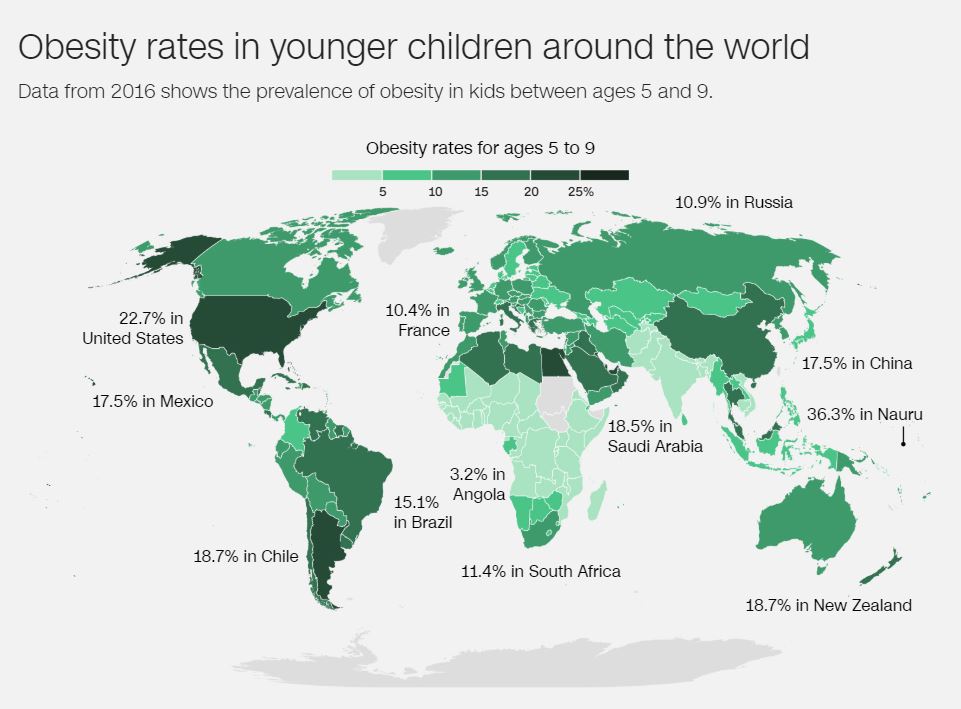 Obesity In America vs Europe
Following Maps compare the USA with Europe on Terms of Obesity. The following are the Top 5 Countries with the Highest Obesity rate in Europe.
UK: 27.80%
Hungary: 26.40%
Lithuania: 26.30%
Czech Republic: 26.00%
Ukraine: 24.10%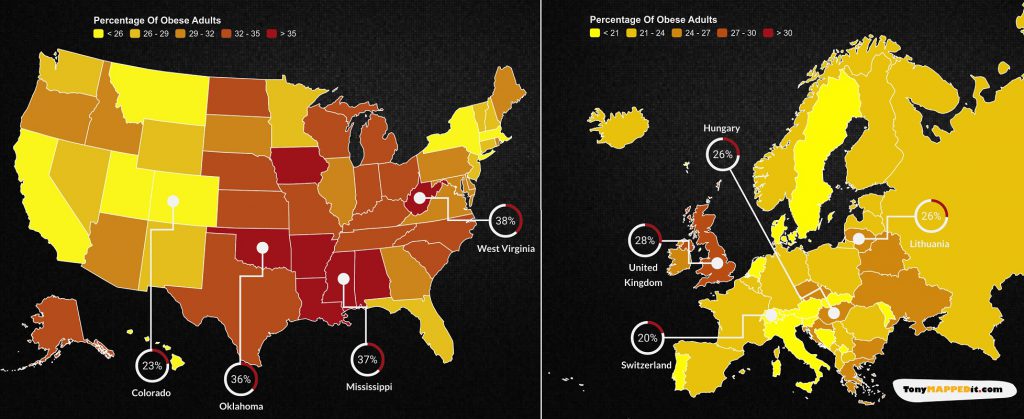 Reasons Behind The Spread Of Obesity
The reasons behind the spread of Obesity and its insidious development into a Global Epidemic could be Briefly Summarized as Follows.
The change in the Economic Lifestyle and Culture: As people get busier with their office work and daily life, they tend to drop and forget about the need to maintain their health.
The Fast Food Culture: As people lose much of their time for their work, they lose time for family and especially, home-cooked Food and tend to eat "Fast Foods" which are high in Fats, Oils, Carbohydrates, and Sugar.
Lack of Exercise and the Sedentary Lifestyle: according to the World Health Organization, currently at least 30% of the global population lacks sufficient exercise. The increase in usage of Mechanized Transportation and the development of labor-saving technologies in the homes contribute to this factor as well.
Genealogical factors could be a reason as well.